How To Install the PER-2599 Motor Replacement Kit / Mounting Assembly Kit on the TOUGH GARD Spatter Cleaner
The following images detail the installation of new motor PER-2510. This motor is not compatible with the existing mounting bracket on spatter cleaner units made before March 2012 and may also require new valve assembly ER-2700, serial number ER-1635 and lower.
The new motor is assembled and marked inside the new mounting bracket for reference and is visually marked to help ensure alignment on the top and bottom of the replacement old ER-2510 motor.
Step 1:
Loosen the motor locking screw from the side of the motor mount assembly and slide the motor out of the bottom of the mounting assembly.
Step 2:
Loosen the motor mount bracket from the spatter cleaner assembly unit and exchange with new PER-2599 mounting kit bracket.
Step 3:
Mounting bracket assembly removed.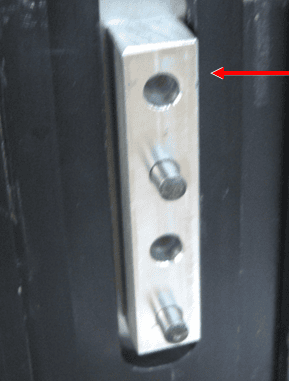 Step 4:
PER-2510 Motor is marked with RED tape at the bottom for alignment. 18 mm measurement (bottom of mounting bracket to bottom of motor).
Motor Replacement Procedure:
Remove electrical and pneumatic power from the unit.
Remove the old motor, utility lines and mounting bracket.
Remove the new motor from the new mounting assembly.
Install new mounting assembly.
Reinstall new motor to new mounting arm using visual tap for alignment or 18 mm dimension. Motor is inserted from the bottom of the assembly.
Reinstall electrical and pneumatic utilities.
If unit serial number is ER-1635 or lower, install new valve assembly ER-2700.
INS078 REV 10/12