How To Install or Replace a Fixed Neck on a T Series Straight Handle BTB MIG Gun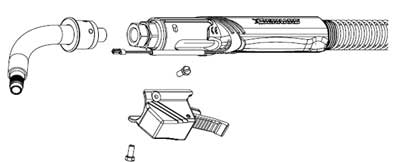 Place neck in vise. Remove both switch mounting housing screws with an 8 mm nut driver.

Slide handle back exposing the cable connection. Loosen the cable/neck connection using a 7/8" wrench.

Remove from vise and unthread neck by hand.

Thread the neck into the cable connection (hand tighten). Place neck in vise and tighten with a wrench to within 1/8" (3.2 mm) spacing between the cable connection and neck.

Install the switch and reposition handle and switch housing.

Reinstall switch housing mounting screws.

Liner may need to be changed if switching to a neck of a different bend angle or length.