How To Change a Conventional Liner on a TOUGH GUN Robotic MIG Gun Equipped with Wire Brake
To change a conventional liner on a TOUGH GUN® robotic MIG gun equipped with wire brake, follow the instructions below:
---
 Step 1:
Unthread and remove the liner from the back of the MIG gun.
---
Step 2:
Insert the new liner from the back of the torch. The liner will bottom out on the Wire Brake.
Measure the distance from the back of the power pin to the hex on the liner and take note of the measurement.

---
Step 3:
Remove the liner and cut the length of your measurement off the front of the liner.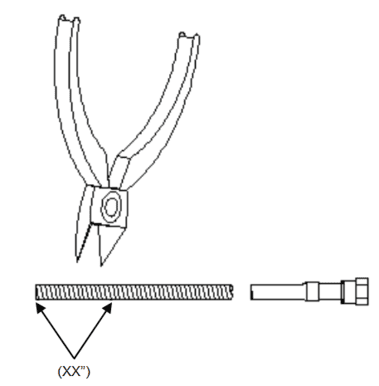 ---
Step 4:
Reinsert the liner and tighten with a 10-mm wrench.
Remove the neck and pull out the jump liner (item #27).

---
Step 5:
Reinsert a new jump liner into the neck and install the neck back onto the torch.
Push back on the jump liner to make sure that it has seated properly against the Wire Brake and cut so that a 1/2 inch of the liner is sticking out of the neck.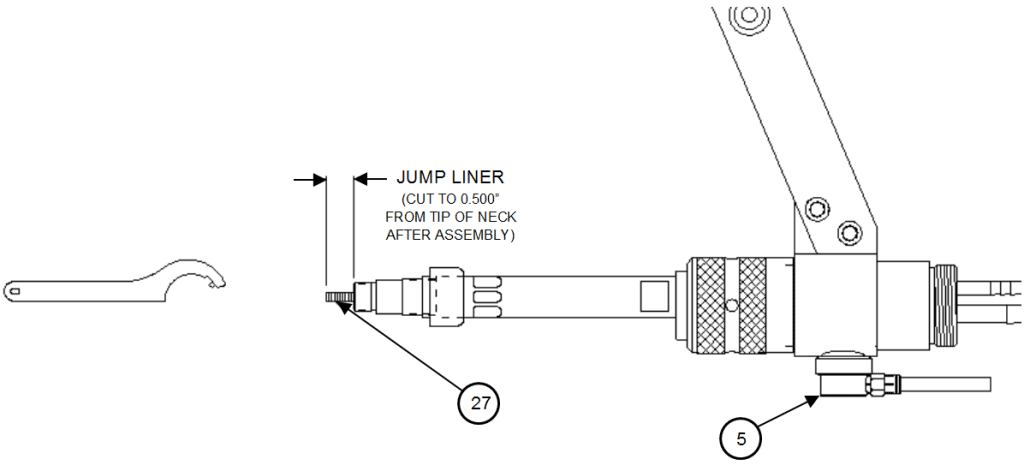 | ITEM #5 PART NUMBER | ITEM #27 PART NUMBER | WIRE SIZE |
| --- | --- | --- |
| WB-100 | 495-18-35 | 0.045″ |
| WB-110 | 495-18-116 | 0.052″ – 1/16″ |
---
Step 6:
Reinstall and tighten the retaining head and contact tip, and slide on the nozzle.