Detroit-Area Company Increases Productivity and Supports Lean Initiatives with New Robotic MIG Gun
There are regular job shops. Then there are job shops that go far beyond basic fabrication — ones that design, machine, laser cut, manufacturer and inspect specialty components from start to finish. Watson Engineering, Inc. of Taylor, Mich. is just such a one.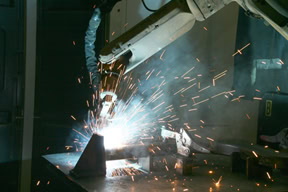 What began as a one-person fabrication shop nearly thirty years ago is now a full-service manufacturer of prototype tubular and sheet metal components, along with products for the automotive and commercial industries. And whether its welding operators are retrofitting race cars with roll cages or manufacturing high-volume runs of heavy equipment components, Watson prides itself on one simple philosophy set forth by founder, Chuck Watson: "Customers come to Watson Engineering with problems they need help with – and we make the problems go away."
The company has been able to achieve this goal through a lot of hard work and even greater innovation. Not to mention, this job shop is lean. Every tool, every bin and every piece of welding equipment has its place — and that place has been chosen for maximum efficiency. In fact, the entire organization of Watson's facility has been the result of all of its employees' commitment to the company's lean initiatives, from concept to painting and shipping.
Not surprisingly, as part of its ongoing innovation and its lean initiatives, Watson decided to look as closely at its robotic welding cells, too. In doing so, they decided to convert to Tregaskiss' TOUGH GUN I.C.E.® robotic MIG gun in order to solve a long-standing problem: finding a durable gun that could maintain its accuracy after a collision. They also added several of Tregaskiss' air-cooled TOUGH GUN robotic MIG guns to other welding cells. After adding the products, they were surprised to find a few extra benefits that directly support their lean initiatives and have also contributed to a 25 percent increase in Watson's overall productivity.
Watson prides itself on the ability to produce components that have exceptionally intricate or complex designs. Not surprisingly, such designs can pose some particular challenges to the welding process, especially when the components are comprised of a wide range of materials and material thicknesses.  According to Rafael Velasquez, robotic supervisor at Watson, in any given day the company may weld exhaust manifolds for an automotive customer, hood hinges for a commercial customer and thousand pound internal components for a heavy equipment manufacturer — sometimes in the same work shift and the same robotic welding cell. Not to mention, all the products undergo rigorous quality control testing (Watson even performs 100 percent lot tests on some parts), so quality is key and downtime is simply not an option if they are to create top notch products on a tight schedule.
Time to Fix What's Broken
One of the biggest obstacles that Velasquez and his fellow Watson welding operators have faced over the years is finding a robotic MIG gun that could "take a hit without bending the neck" after a collision. Despite the best precautions, robotic welding collisions are a very real problem, resulting most often from tooling clamps not being secured. If the robotic MIG gun neck bends, it must be adjusted or replaced since the robot's tool center point (TCP) will change and have a negative impact on the quality of subsequent welds.
"We're always changing parts and tooling," explains Velasquez. "Unfortunately, you can bend two or three necks in a week because of it. Somebody would miss a clamp and leave it up. It happens."
After enough bent necks, downtime and just plain frustration, Velasquez opted to contact Watson's long-time distributor, Dan Gnesda of Roy Smith Company in Detroit for help. Gnesda recommended the TOUGH GUN I.C.E. Robotic MIG Gun and the results, per Velasquez, have been worthwhile.
Durability, Flexibility and Accuracy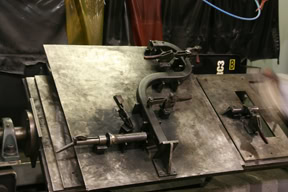 Prior to converting to the TOUGH GUN I.C.E. robotic MIG gun, Watson used a competitive brand water-cooled gun, which Velasquez explains was quite costly and time-consuming to fix after a collision. Fundamentally, necks for water-cooled robotic MIG guns tend to be weaker than air-cooled designs and involve more work to replace, in major part because the water lines run internally through the power cable, gun and neck. To replace the water-cooled neck after a collision, Velasquez and his team needed to disconnect the neck from the gun and unhook the water lines by removing clamps that were crimped around them — a process that took about 30 minutes.
Converting to the TOUGH GUN I.C.E. robotic MIG gun, however, seems to have offered Watson the best of both worlds: the durability of an air-cooled MIG gun and the cooling capacity of a water-cooled gun.
I.C.E stands for 'Integrated Cooling Enhancer' and aptly describes the design of the gun, as it is a 'hybrid' between conventional air- and water-cooled designs. The TOUGH GUN I.C.E. robotic MIG gun features stainless steel water lines that run along the outside of the gun's neck down to the nozzle, rather than through the neck like true water-cooled products. This design provides water circulation that keeps the consumables of the gun running cool, but because the lines are external (instead of running through the neck), the gun's neck has more mass and is stronger, much like that on an air-cooled gun.
According to Velasquez, the necks on the TOUGH GUN I.C.E. robotic MIG guns "can take the hit" most times after a collision, and in the event that the neck does bend, it can be replaced in about five minutes — a timeframe that fits nicely into Watson's overall lean initiatives.
The TOUGH GUN I.C.E. robotic MIG gun also features water shut-off valves at the I.C.E. connections and a quick-change neck feature. To disconnect the neck, Velasquez simply loosens a setscrew on the gun housing, disconnects the quick-change fittings for the water lines and slides on a new neck. After reconnecting the water lines and verifying his TCP, he can get the welding operation up and running again.
"My emergency calls from Watson used to come through every other week with the previous gun, because of the crashes," explains Gnesda. "After replacing the necks, there could be leaking or something else that was off. Now with the TOUGH I.C.E. gun, well, I hear from them every couple of months." 
And because, the TOUGH GUN I.C.E. robotic MIG gun provides up to 550-amp capacity (at 60 percent duty cycle with mixed gases), it provides Watson with another solution that fits their goals for creating a lean facility: it can weld on a variety of material thicknesses. There is no need to change out robotic MIG guns to accommodate for the ever-changing flow of components that make their way through the weld cell each day — a factor that saves Watson money and time.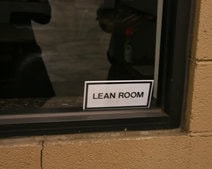 "We have a lot of high amperage, high voltage welds. And we weld on thinner metals, too," explains Velasquez. "Some of our components are thirty-millimeters thick and others are as thin as three mils. I can weld both. I just have to change out the wire."
As with the durability of the gun's neck and the occasional changeover, being able to use the same gun for all its parts has contributed significantly to Watson's lean initiatives.
"There's so much going on here with all the parts they weld, it'd be very easy for things to get out of control." says Gnesda, "But these guys have a handle on everything. I think the I.C.E. is helping with that."
Ownership and Inventory Made Easy
The goal of Watson's lean initiatives has been to improve workflow, minimize downtime and, of course, improve productivity and profitability. After converting to the TOUGH GUN I.C.E. Robotic MIG Gun, and also adding several Tregaskiss® TOUGH GUN® robotic MIG guns to their other welding cells, Watson found that their equipment maintenance also became easier and they reduce their inventory, too — both benefits they had not anticipated.
Velasquez first noticed that the total cost of maintaining the TOUGH GUN I.C.E. robotic MIG gun was substantially lower compared to the conventional water-cooled MIG gun Watson used previously. In addition to the fact that the necks have been more durable and easier to replace when needed, he found that the gun's unicable has been equally robust. In fact, according to Velasquez, he only just recently changed out the original unicable that came with the TOUGH GUN I.C.E. robotic MIG gun two and a half years ago.
"We've been running around the clock, six days a week each year with the same one," he explains. "To change it, I just loosened a couple of screws, popped it out and put on the new one. With the addition of a new liner, I just connected the unicable back at the feeder. It took me fifteen minutes and we're done."
Saving the cost of purchasing unicables on a regular basis has been a welcome benefit for Watson, as has its reduction in inventory for this and other MIG gun parts. Since Velasquez began using the TOUGH GUN I.C.E. robotic MIG gun and the air-cooled TOUGH GUN MIG guns for his other welding cells, he has also been able to reduce his inventory for necks significantly, too, as many are interchangeable. 
"I used to have so many necks in stock, sometimes about fifteen different ones. Now I've got three necks I can use on all the robots. I don't have to have so much inventory to keep this place running," says Velasquez.
He's also been able to reduce his consumables inventory. Both the TOUGH GUN I.C.E. Robotic MIG Guns and the standard TOUGH GUN MIG Guns operate on Tregaskiss' Common Consumable Platform, meaning that the front-end consumables — nozzles, contact tips, retaining heads and liners — are the same for both guns. Velasquez explains that he uses standard and heavy-duty TOUGH LOCK® consumables for all the guns, depending on the thickness of the parts his robots are welding and at what amperage. He simply orders the parts that correspond to the different wires he uses between part runs. Velasquez also explained that when he changes over the contact tips on his robotic MIG guns, he then uses them for the semi-automatic MIG guns Watson uses in other portions of the facility.
So what's the bottom line of these and all the other benefits Watson has found with its lean initiatives?
Lean and Productive
According to Velasquez, Watson's lean initiatives — including the benefits brought forth from the TOUGH GUN I.C.E. robotic MIG guns and other Tregaskiss products — have combined to provide a 25 percent increase in the company's productivity. The process is ongoing, of course, but it's been made easier by the commitment of Watson's employees who have all played a significant role in organizing the facility, from the concept phase of the many components it manufactures to the machining, storing and assembly of the parts. Having a durable, easy-to-maintain robotic MIG gun and minimizing Watson's inventory has definitely helped improve workflow and reduce downtime, too.
"We're serious about lean," says Velasquez. "We try to complete jobs from concept to finish within days. The I.C.E. and other Tregaskiss products have definitely helped us."