Jolson Welding Improves Productivity with New MIG, FCAW Equipment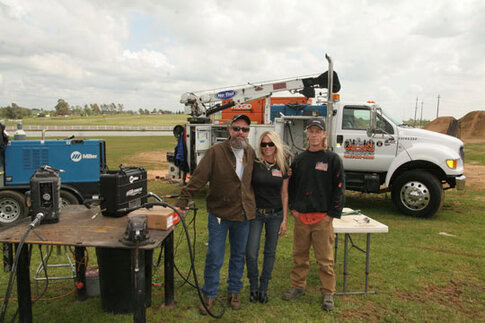 Welding contractors seem to do it all. At least at Jolson Welding they do. From welding piles and water lines to beams, heavy wall underground pipe and bridges, owner Bob Jolson and his team of contractors tackle some of the toughest jobs on the West Coast. And they do it quickly, thanks to some recent changes to their welding equipment and consumables.
"I always like to try new things with our business. I keep trying them until I find something that I like and that works," explains Jolson. "It helps keep us a lot more competitive on our bidding."
At Jolson's company in Wheatland, California, their primary focus is on heavy-duty commercial welding, which includes welding pipe ranging from ½ inch OD to 200-inches in diameter and wall thickness of 1/8 inch to unlimited thickness. Taking on such large projects doesn't leave much room for downtime if the company is to stay on schedule and remain competitive in their bidding. And while Jolson has always taken care of his customers, since pairing his Bernard's Q-Guns™ and Dura-Flux™ guns with Hobart Brothers' Excel Arc™ 71 gas-shielded and Fabshield® XLR-8 self-shielded wires, respectively, he's been able to do more than just stay on schedule — he's improved the company's productivity by 30 percent along the way.
Making the Change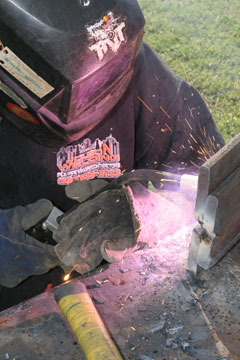 Since Jolson founded his company in 1989, he and his business partner and wife, Colleen, have worked diligently to gain welding contracts along the West coast. Supporting the business is welder, Brandon Hobbs. Their efforts haven't been in vain. Between referrals they receive from other contractors to repeat business and active bidding, they've carved a niche for themselves as the 'go-to' company for pile driving and pipe welding, especially.
Each of the welding contracts Jolson takes on has its own unique requirements. Some require strictly stick welding, which he and Hobbs usually accomplish with AWS E6010 and 7018 stick electrodes, while others require a combination of stick welding and flux-cored welding. Additionally, the projects vary between requirements for gas-shielded flux-cored wires, like AWS E71T-1 wires, and self-shielded products like E71T-8JD H8 wires. Also, some projects entail strict attention to established codes, including the AWS (American Welding Society) D1.5M/D1.5:2002 for bridge welding and AWS D1.1/D1.1M:2006 Structural Welding Code – Steel. But regardless of which requirement Jolson encounters, the contracts he accepts involve close attention to detail, high quality welds and good productivity.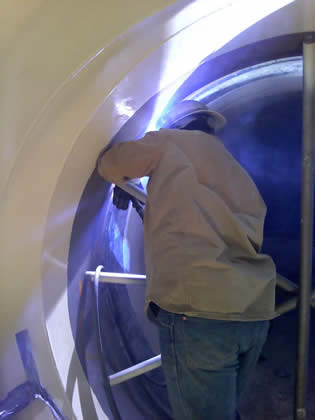 For years, Jolson faithfully used a competitor's wires to achieve those results, until a major pipe project a year ago prompted him to seek out new products that could meet the tight timeline imposed by the hiring company.
"We had the option to take on a major project in San Francisco. It was 96-inch diameter pipe job that the company wanted welded on a short timeline," explains Colleen Jolson. "That's when we met up with our local Bernard and Hobart Brothers' representative, Willie Stubblefield. We wanted to look at new products that could help us meet that deadline."
Working with Stubblefield, whom the Jolsons met through a local welding distributor, they set up tests for different types of welding equipment and wires. The goal was to find products that allowed Jolson to weld faster and also that would be user-friendly for the other welding operators that joined them on the project. According to Colleen Jolson, the company (with the exception of fulltime employee, Hobbs) brings on welding operators to meet the demands of a given project. So, while highly experienced, their skill sets often vary.
The result of the testing
Jolson decided to convert to Hobart Brothers' Fabshield XLR-8 self-shielded flux-cored wire paired with Bernard's Dura-Flux guns, which he has been a loyal user of for some time. For gas-shielded welding, he chose to pair his trusted Bernard Q-Guns with Hobart's Excel Arc 71 flux-cored wire. He's been using the products together ever since.
The New Approach to Self-Shielded Welding
Jolson was introduced to Bernard's Dura-Flux gun when he purchased his first SuitCase® X-TREME™ VS wire feeder from Miller Electric Mfg. Co., sister company to both Bernard and Hobart Brothers. The Dura-Flux gun came standard with the feeder. Since then, he says he's continued using the gun because of its durability and ease of maintenance—features that together have added to his company's productivity increases.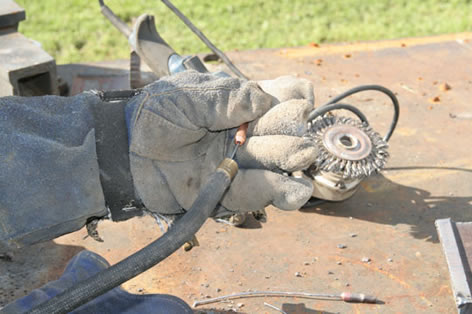 "For me, one of the most important features is the microswitch inside the trigger. It's water resistant, so if it's raining or we drop the Dura-Flux in a puddle we can pick it up and go right back to work, as long as all other components are dry," explains Jolson.
The microswitch Jolson refers to is a feature that Bernard added specifically to help increase the durability of the gun in harsh construction environments. Its sealed design helps keep dirt, dust and water from entering the trigger and damaging the internal components.
Jolson also likes that he can change out the contact tip on the Dura-Flux gun without tools and says that the gun's small trigger guard makes it easier for him to maneuver around difficult joints and is more comfortable to hold for long periods of time. Most competitive self-shielded guns have a large heat shield, which he said would often get in the way when he welded in tight areas.
But the best part of the Dura-Flux gun according to Jolson? It allows him, Hobbs and his other welding contractors to get a high volume of work done—fast.
"We average probably 60 pounds of wire a day going through a gun with only one guy welding," he says. "That's a lot of wire." In this case, it's Hobart Fabshield XLR-8 self-shielded .072-inch diameter wire that he is using, an all-position wire that provides the high deposition rates and good impact strengths that he and his team need. The wire also has the optional D designator under AWS A5.20:2005 specifications, making it usable for the strict AWS D1.8 Demand Critical welds that Jolson often requires. Fabshield XLR-8 wire also offers a large voltage window and is particularly well suited for vertical-up welds at high current levels. Jolson operates the wire at approximately 19 to 25 Volts and 180 to 350 IPM (inches per minute), depending on the application and explains that the ability to run the wire at such a wide range of IPM helps him and his team stay productive. He says the Fabshield XLR-8 also simplifies set up and makes it easier for the range of skill sets that his contracted welding operators bring to the job.
"I could put any guy on the job—from a really experienced welder to a novice and we won't have any IPM issues. We don't have to make sure that our wire speed is right on the money," Jolson explains. "We just set our voltage and amperage and the guys can tinker with the wire speed a bit."
And while Jolson depends on his Dura-Flux gun and Fabshield XLR-8 wire, other parts of his welding arsenal help keep the company's productivity on track, too.
Gaining the Most Out of Gas-Shielded Welding
After Jolson discovered Bernard's Dura-Flux gun, he liked it so much that he sought out an option for his gas-shielded applications. The result? With the help of Stubblefield, he customized a Bernard Q-Gun with the exact neck, consumables and cable length for his applications. (Bernard allows customers like Jolson to create their own style MIG Gun with their online Configurator or by working with a company representative or distributor). In this case, he built a MIG gun with an OXO-style handle and Bernard's exclusive Centerfire consumables, and then added a six-inch flexible neck. He also uses Bernard's Jump Liners.
"Like the Dura-Flux gun, the Q-Gun has been really convenient, especially welding in tight spots," explains Jolson. "Plus, it's very easy to use and maintain—very user friendly. I don't know that I'll ever change from it."
According to Jolson, the Bernard Jump Liners have added measurably to his productivity increases. In fact, he estimates that it takes him or Hobbs approximately two to three minutes to change a Jump Liner compared to the 20 or more minutes to change a conventional MIG gun liner. Bernard Jump Liners connect with standard liners at the base of the Q-Gun's rotatable neck and run through the most common wear point up to the contact tip. Jolson doesn't have to replace (or trim) the entire gun liner when it becomes worn at the neck (the most common wear point). The jump liner stays with the body tube and the main liner stays within the gun.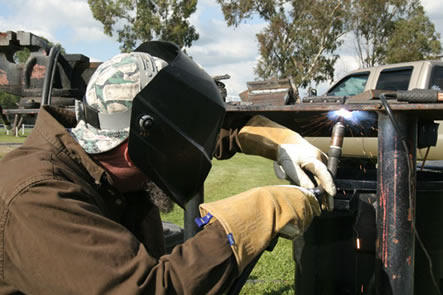 "It [the Jump Liner] saves me a lot of time because we don't have to tear the whole gun apart in the middle of a welding process," he explains. "We just remove the gooseneck, pop out the Jump Liner and slide in a new one. It's very cost effective, and it gets us back to work faster."
Reducing downtime and adding to his productivity are the Centerfire consumables (contact tips, diffusers and nozzles) that Jolson uses on his Q-Gun. Centerfire series contact tips 'drop in' the gas diffuser and lock in place by tightening the nozzle. The nozzles feature a built-in spatter shield to protect the gas diffusers and provide smooth gas flow.
"I use a small nozzle for getting into tight spots. Some people think that I'll have gas diffusion problems because of that, but I just don't," says Jolson. "The holes inside the nozzle distribute the gas evenly. There's not a problem with that. Plus the contact tips last longer than screw-on tips. I would say three to four times longer."
Jolson couples his Q-Gun with Hobart Brothers' gas-shielded wire, Excel Arc 71—a change that he says has helped the company's productivity in several ways, including improving weld quality and reducing cleanup.
The company uses a .045-inch diameter wire, which Jolson and Hobbs operate at 19 to 24 Volts and approximately 175 to 500 IPM using 100 percent CO2, a set up that they say gives them the exact quality and travel speed they want. In many cases (as the specifications for a given project allow), Jolson says that he and his team can use the wire for the root, fill and cap passes, all with minimal downtime for interpass cleaning.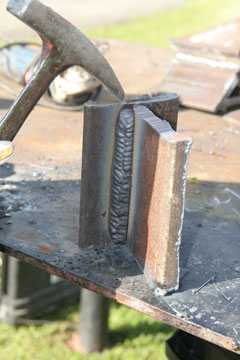 He explains, "We usually run two- or three-foot passes at a time. By the time we get halfway through, usually the slag is already falling off."
The Excel Arc 71 also gives the team the versatility to weld a variety of different size welds—ranging from as thin as ¼ inch to as large as 1 inch, and produces very little spatter in the process, features that keep productivity high and downtime for cleanup at a minimum.
"With competitive wires, I find that they are a little more finicky. I get a lot of spatter even if I mess with the gas, voltage and IPM," says Jolson. "I don't have time for that. I need to get the job done, and with the Excel Arc 71, we don't have to worry about those problems."
So what's the bottom line to benefits like these and the others that Jolson has experienced in the last year? According to him, pairing the Fabshield XLR-8 and Excel Arc 71 welding wires with his Bernard Dura-Flux guns and Q-Guns, respectively, has had a significant impact on his company's productivity—to the tune of a 30 percent increase.
"The changeover has really worked out good for our company," says Jolson. "We can be a lot more competitive with our bidding now. And a lot more productive."
That's important for someone like Jolson who never knows what project he'll be taking on week-to-week, but needs to be prepared for whatever comes down the pipe.