Bernard and Tregaskiss to Showcase MIG Welding Solutions at FABTECH 2023
BEECHER, Ill./WINDSOR, Ontario. (June 1, 2023) — Bernard and Tregaskiss will attend FABTECH in Chicago, Sept. 11-14, sharing booth B23027 with Miller Electric Mfg. LLC and Hobart Brothers LLC. The companies will showcase integrated welding solutions that help improve productivity, reduce costs and deliver high quality.

Bernard will display its AccuLock™ S consumables with dual-locked and conventional liners for semi-automatic welding applications. Tregaskiss will showcase its AccuLock R and AccuLock HDP consumables for robotic applications. These consumables systems are designed to increase consumable life and productivity while decreasing costs.

Also at the booth, Tregaskiss will display its TOUGH GUN® TA3 robotic air-cooled MIG guns as well as TT4E and TT4A nozzle cleaning stations, which automate spatter removal to extend robotic MIG gun and consumable life. Tregaskiss will also display its BA1 cobot air-cooled MIG welding guns, designed for Miller® Copilot™ Collaborative Welding Systems. The cobot gun offers fast, simple installation and consistently delivers high-quality welds. Bernard will feature its BTB semi-automatic air-cooled MIG guns. Operators can customize these guns with multiple handle, trigger and liner options along with fixed or rotatable neck and choice of consumables, using the online configurator. Clean Air™ fume extraction MIG guns also will be featured by Bernard.

Bernard and Tregaskiss representatives will be available to answer questions about the brands' welding solutions and to provide information on technical and product support.
####
Bernard and Tregaskiss Release NEW MIG Welding Guns & Consumables Catalog
BEECHER, Ill./WINDSOR, Ontario. (March, 2023) — Bernard and Tregaskiss have announced the availability of a joint MIG Welding Guns & Consumables catalog.
The 46-page, full-color catalog includes a consumable comparison chart to compare contact tip, nozzle and diffuser types across the brands' available consumables offerings, along with a consumables and MIG gun series compatibility chart to guide users in their selection.
The catalog offes easy-to-read key features and part numbers for its products and is organized by product category, first highlighting the brands' exclusive AccuLock™ S and AccuLock R Consumables — both designed to reduce downtime and improve welding performance.
Also included in the catalog are product details and configurator overviews for customizing Bernard® Semi-Automatic MIG Guns, Tregaskiss® Robotic MIG Guns, Clean Air™ Guns and more. Tregaskiss Fixed Automatic MIG Guns for hard tooling applications are also featured.
Each page includes website quick links with URLs users can visit to learn more about a specific product, plus service and support contact numbers and directions to explore online resources, such as videos and product configurators.
The catalog can be downloaded as a PDF or ordered as a printed copy at Tregaskiss.com/literature.
Bernard AccuLock S Consumables Now on Select Miller® Packages
BEECHER, Ill. (March 7, 2023) – Bernard has announced that AccuLock S consumables will now be standard on its BTB MIG guns included in select packages from Miller Electric Mfg. LLC. These will replace its Centerfire™ consumables that previously shipped with the equipment.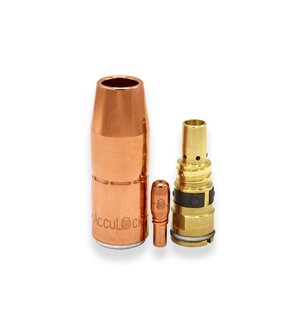 An AccuLock nozzle and contact tip will be included in these packages, along with a newly designed gas diffuser that is compatible with Bernard conventional liners. This diffuser will simplify conversion of existing fleets of BTB MIG guns from Centerfire consumables or TOUGH LOCK® consumables to AccuLock S consumables. To enjoy the full benefits of the AccuLock S dual-locked liner system, users can choose to upgrade their MIG guns later by changing the diffuser, liner and power pin cap.
The AccuLock S consumables will be standard on the following Miller packages:
Suitcase® 12RC
ArcReach® Suitcase 8 and 12 (on Bernard BTB MIG guns only)
Deltaweld® Systems
XMT® 350 FieldPro™ Systems
XMT 450 Systems
Continuum™ Systems
20 Series
S-74 MPa Bench Feeders
Intellx™ Wire Feeders
Intellx Swingarc™
Bernard is providing end users with the ability to configure Bernard BTB MIG guns with AccuLock S consumables for conventional liner diffusers through its online configurator. Packages that have Dura-Flux™ and PipeWorx guns will not include AccuLock S consumables.
For more information, visit Tregaskiss.com/acculock_conventional/.
# # #