AccuLock R Series Consumables Increase Throughput and Efficiency
WINDSOR, Ontario (November 14, 2019) – Tregaskiss has designed its new AccuLock™ R consumables system to virtually eliminate cross-threading issues and offers AccuLock HDP contact tips as an option within the series to extend tip life by 10 times or more in certain pulsed welding applications.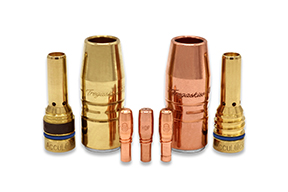 The consumables can help to reduce both unplanned and planned downtime in robotic MIG welding applications. By increasing efficiency, AccuLock R consumables help companies achieve annual cost reduction and throughput goals — with minimal risk or effort. They are ideal for applications in the automotive, fabrication and manufacturing industries.
For companies challenged with a shortage of experienced welding operators, reducing the need for replacement of the AccuLock R consumables means fewer human interactions within the welding cell and fewer opportunities for errors during installation. The coarse threads on the contact tip are responsible for virtually eliminating the risk of cross-threading and a long contact tip tail concentrically aligns within the diffuser prior to thread engagement, ensuring quick, accurate replacement. Eliminating cross-threading issues allows companies to spend less time troubleshooting and more time focused on weld quality and productivity initiatives.
AccuLock R consumables feature an enhanced contact tip-to-diffuser design. The contact tip features increased mass at the front and 60% of the tip is buried in the diffuser, protected from the heat of the welding arc, reducing the need for frequent replacements. Tapered mating surfaces ensure optimal electrical conductivity, while also keeping the consumables locked in place.
The Tregaskiss® AccuLock R and Bernard® AccuLock S consumables share a common contact tip available for welding wire sizes ranging from 0.023 to 1/8 inch. This common consumables platform™ simplifies inventory and reduces the chance of mistakes during changeover.
The consumables are compatible with front-loading QUICK LOAD® liners from Tregaskiss, as well as TOUGH GUN® CA3 and TA3 robotic MIG guns and Tregaskiss air-cooled fixed automation MIG guns. Current users of Tregaskiss® TOUGH LOCK® consumables or other contact tips and diffusers can, in most cases, easily change to AccuLock R consumables without affecting the tool center point (TCP) or needing to reprogram the robot.
Tregaskiss Updates Robotic MIG Gun and Reamer Configurators
WINDSOR, Ontario (August 20, 2019) – Tregaskiss has updated the online configurators for its TOUGH GUN® CA3 robotic air-cooled MIG gun, TOUGH GUN TA3 robotic air-cooled MIG gun and the TOUGH GUN TT3 reamer robotic nozzle cleaning station with improved functionality. The new mobile-friendly configurators allow users to quickly and easily customize their robotic MIG guns and reamer for their exact application.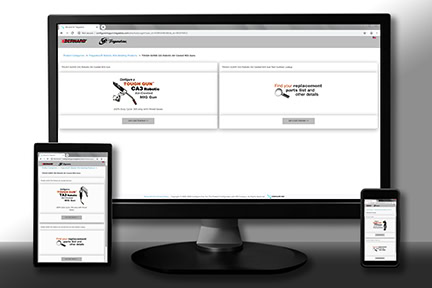 Designed for high-volume production environments, the 385-amp TOUGH GUN CA3 robotic air-cooled MIG gun is engineered for precision, durability, accuracy and repeatability. The TOUGH GUN TA3 robotic MIG gun minimizes downtime and improves welding performance on today's through-arm robotic welding systems, while the TOUGH GUN TT3 and TT3 (Ethernet) reamer helps extend the life of robotic MIG guns and consumables and operates reliably in even the harshest welding environments.

In addition to features previously offered on the configurators, including reverse part number lookups and step-by-step product customization, the new versions provide access to expanded resources. These include a detailed summary of the configured gun or reamer, downloadable exploded view diagrams, an expanded replacement parts list with diagram, and other valuable takeaways like spec sheets and owner's manuals.

When the configurations for the TOUGH GUN CA3 and TOUGH GUN TA3 Robotic MIG Guns or TOUGH GUN TT3 Reamer are complete, the user receives a part number and parts list, and has the option to print, save in PDF format or email results. There is also the option to find contact information for a local distributor to order products from, or the user can request more information from a Customer Service representative.

To access the newly updated online configurators, visit Tregaskiss.com/ConfigureMyGun.

# # #

Bernard and Tregaskiss to Showcase Consumable and Gun Solutions at FABTECH 2019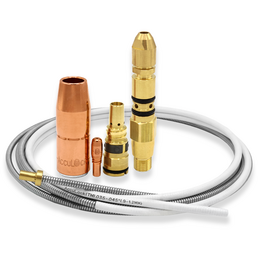 BEECHER, Ill./WINDSOR Ontario. (July 18, 2019) – Bernard and Tregaskiss will attend FABTECH 2019 in Chicago at McCormick Place, November 11 to 14. The companies will be in booth B23054.

In addition to showcasing AccuLock™ consumables for semi-automatic and robotic welding applications, the companies will also participate in live welding demonstrations. As part of those demonstrations, the Bernard® AccuLock S consumables will be paired with Bernard semi-automatic MIG guns, power sources from Miller Electric Mfg. LLC and filler metals from Hobart in a shared area with these brands.

Both Bernard and Tregaskiss will have representatives available to answer questions about semi-automatic and robotic MIG gun and consumable solutions and provide information on the companies' technical and product support.

# # #

Bernard Updates Online Configurators with Expanded Capabilities
BEECHER, Ill. April 9, 2019 – Bernard has launched new versions of its BTB semi-automatic air-cooled MIG gun and Clean Air™ fume extraction gun online configurators. These mobile-friendly configurators make it easy for users to customize an industrial-duty welding gun to match their application or preferences — improving comfort and overall welding performance. Configuring a gun to users' exact specifications can help reduce fatigue and stress, making them more productive and helping them gain high quality welds. 
Users can still take advantage of the configurator features offered previously, including reverse part number lookups — now with extended functionality and additional resources available. These online configurators let customers choose the specifications of their gun, including cable type and length, amperage, handle and trigger type, neck type, neck angle and length, contact tip, wire size, power pin and liner. Plus, the new Bernard® AccuLock S consumables are now available for selection in the BTB semi-automatic air-cooled MIG gun configurator.

Once the configuration is complete, users receive a part number and a detailed summary of their results. In addition, users now have access to new exploded view diagrams of the welding gun and consumables, product spec sheets and an owner's manual, as well as other relevant online resources and literature.

Users can choose to print the results of their gun configuration, download them in PDF format and save them for later, or share via email, and can request more information from a Bernard representative directly on the site. They can also take the part number to their local distributor to order their gun.

Learn more or access these online configurators now.

# # #
MIG Gun Consumable System Simplifies Installation, Offers Flawless Wire Feeding
BEECHER, Ill. March 6, 2019 – Bernard has introduced its new AccuLock™ S consumables system. Building on proven MIG gun consumable technology, Bernard has added advanced design features. These features ensure higher productivity and optimized wire feeding, while also simplifying installation and maintenance. The system includes a contact tip, nozzle, gas diffuser, liner, and power pin and power pin cap. 

"AccuLock S consumables represent a revolutionary improvement for users of industrial MIG guns," says Linda Ray, Vice President and General Manager. "These MIG gun consumables work together, as a complete system, improving performance and minimizing — if not eliminating — the most common gun maintenance issues."
About the MIG Gun Consumable System
The AccuLock S consumables are designed to solve issues associated with poor wire feeding in semi-automatic MIG welding such as bird-nesting, burnback and erratic arc. The system locks in place and concentrically aligns the liner with the power pin and contact tip. This allows for a flawless wire feeding path with no gaps or misalignments. Additionally, this does not require liner measuring during installation or replacement. Welders simply cut the liner flush with the back of the power pin for perfect liner trimming — every time. Combined, these features decrease the risk of improper installation. Moreover, this decreases the possibility of costly downtime to address poor weld quality or liner replacement.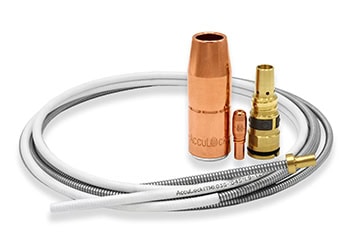 Adding to the ease of installation, the contact tips feature coarse threads that easily mate with the gas diffuser, lessening the chance of cross-threading and speeding contact tip replacement.

By design, the Acculock S MIG gun consumables reduce heat buildup, improving product life. Sixty percent of the contact tip is buried in the gas diffuser to protect it from heat damage. The shielding gas helps cool the contact tip tail. The tapered design of the consumables tightly lock conductive parts together to minimize electrical resistance and further reduce heat buildup.

As a complement to the AccuLock S MIG gun consumables system, AccuLock MDX™ consumables launched with the new Miller® MDX MIG guns in February 2019. AccuLock R consumables for robotic welding applications will release under the Tregaskiss® brand name later in 2019.
AccuLock Consumables With Miller MDX Guns Offer Flawless Wire Feeding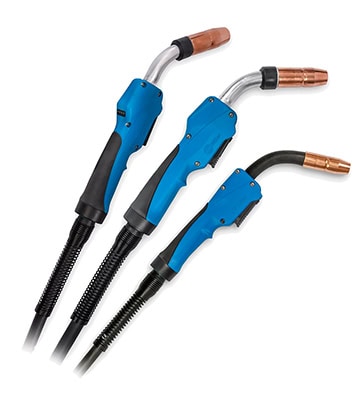 APPLETON, Wis. (February 6, 2019) — Miller Electric Mfg. LLC has introduced its new MDX™ series MIG guns. Designed with operator comfort in mind, these MIG guns feature a durable and ergonomic handle with a rubber overmolding for improved grip, while the addition of a ball and socket handle swivel reduces fatigue.

AccuLock™ series consumables add to the performance of the gun, providing a flawless wire feed path. The front-loading liner locks in place (no need for set screws) and aligns concentrically with both the contact tip and power pin to optimize wire feeding. Error-proof liner trimming, with no measuring required, reduces burnbacks, bird-nesting and erratic arc caused by liners that are too short, minimizing downtime for troubleshooting or rework.

The MDX series includes three models: MDX-100, MDX-250 and MDX-250 EZ-Select™. These guns are all compatible with Miller AccuLock MDX series consumables, and the MDX-250 and MDX-250 EZ-Select guns are also compatible with Bernard AccuLock S consumables. Both AccuLock series feature tapered connections between the contact tip, gas diffuser and neck to maximize electrical conductivity for longer product life. Coarse thread on the contact tips speeds replacement by mating easily with the gas diffuser and lessens the risk of cross-threading.

Bernard® AccuLock S consumables are an excellent upgrade to increase durability and consumable life when welding with MDX-250 or MDX-250 EZ-Select guns in heavier industrial environments. They also simplify consumable inventory for operations using a mix of Miller MDX and Bernard MIG guns.

Miller offers conversion parts to retrofit older style Miller MIGmatic M-Series guns with AccuLock MDX and AccuLock S consumables. M-Series consumables will not be compatible on the new MDX series MIG guns.
Gun compatibility and capabilities
The MDX series guns will be made available on multiple Miller power sources.

The MDX-100 is rated at 100 amps. It pairs with the following:
Millermatic® 141
Millermatic 211Multimatic® 215
Multimatic 220 AC/DC
The MDX-250 contains increased copper in the cable, is pulse welding capable, and can be used with CV waveforms. It is compatible with the following:
Millermatic 212 Auto-Set™
Millermatic 252
Millermatic 255
Multimatic 200
Multimatic 255
The MDX-250 EZ-Select gun features trigger program select that allows the user to select up to four weld programs by tapping the MIG gun trigger, saving time for walking to the machine to make changes. To help avoid errors, the gun features LED lights on the handle to indicate the weld program that is currently selected. It works with the following:
Millermatic 255
Multimatic 255
For more information, visit MillerWelds.com/mdx.