Bernard Expands and Updates Clean Air Fume Extraction Gun Offering
BEECHER, Ill. November 16, 2017 — Bernard has introduced a new model to the Clean Air™ fume extraction gun family and has updated the entire Clean Air offering with a new look. A 300 amp MIG gun has been added to the Clean Air family, which allows users to reduce smoke at the source with an industrial-duty fume extraction gun that is comparable in size and weight to a regular welding gun. In addition, Bernard has changed the finish from chrome to black on all Clean Air fume extraction gun vacuum tubes and chambers. This aesthetic change has been made on all new guns, replacement vacuum tubes and replacement chambers.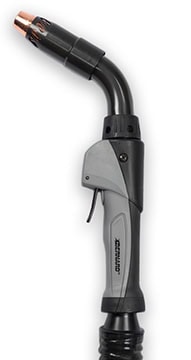 The expansion of the Clean Air fume extraction gun offering provides more choices and greater flexibility for operations seeking to establish a cleaner, more compliant work environment. Clean Air fume extraction guns are also available in 400-, 500- and 600-amp models and can be used with solid and flux-cored wire. The guns are compatible with high performance consumables from Bernard, including Centerfire™, Quik Tip™ and TOUGH LOCK®, as well as the conventional liner or QUICK LOAD® liner. Users can make their selection and customize their Clean Air fume extraction gun when configuring their gun online. 
All Clean Air fume extraction guns have a small vacuum chamber that provides good joint access and visibility, along with a 360-degree vacuum hose swivel on the rear of the handle that improves flexibility and reduces operator wrist fatigue. The guns are ideal for large weldment and confined space welding applications.