AccuLock R Series Consumables Increase Throughput and Efficiency
WINDSOR, Ontario (November 14, 2019) – Tregaskiss has designed its new AccuLock™ R consumables system to virtually eliminate cross-threading issues and offers AccuLock HDP contact tips as an option within the series to extend tip life by 10 times or more in certain pulsed welding applications.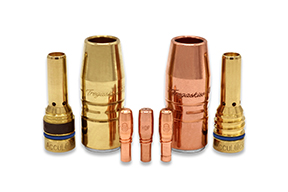 The consumables can help to reduce both unplanned and planned downtime in robotic MIG welding applications. By increasing efficiency, AccuLock R consumables help companies achieve annual cost reduction and throughput goals — with minimal risk or effort. They are ideal for applications in the automotive, fabrication and manufacturing industries.
For companies challenged with a shortage of experienced welding operators, reducing the need for replacement of the AccuLock R consumables means fewer human interactions within the welding cell and fewer opportunities for errors during installation. The coarse threads on the contact tip are responsible for virtually eliminating the risk of cross-threading and a long contact tip tail concentrically aligns within the diffuser prior to thread engagement, ensuring quick, accurate replacement. Eliminating cross-threading issues allows companies to spend less time troubleshooting and more time focused on weld quality and productivity initiatives.
AccuLock R consumables feature an enhanced contact tip-to-diffuser design. The contact tip features increased mass at the front and 60% of the tip is buried in the diffuser, protected from the heat of the welding arc, reducing the need for frequent replacements. Tapered mating surfaces ensure optimal electrical conductivity, while also keeping the consumables locked in place.
The Tregaskiss® AccuLock R and Bernard® AccuLock S consumables share a common contact tip available for welding wire sizes ranging from 0.023 to 1/8 inch. This common consumables platform™ simplifies inventory and reduces the chance of mistakes during changeover.
The consumables are compatible with front-loading QUICK LOAD® liners from Tregaskiss, as well as TOUGH GUN® CA3 and TA3 robotic MIG guns and Tregaskiss air-cooled fixed automation MIG guns. Current users of Tregaskiss® TOUGH LOCK® consumables or other contact tips and diffusers can, in most cases, easily change to AccuLock R consumables without affecting the tool center point (TCP) or needing to reprogram the robot.