7 Tips for Improving MIG Welding
Want to improve your MIG welding? By following these seven tips, you can take your MIG welding operation to the next level and ensure you are as safe, efficient and professional as any other shop.
1. Remember that the best MIG welding operator is a safe one.
Never forget that MIG welding, when done improperly, can be hazardous. Electric shock, fumes and gases, arc rays, hot parts, noise and a host of other possible hazards come along with the territory. The ultraviolet and infrared light rays can also burn your skin — similar to a sunburn but without the subsequent tan — and your eyes. This is why the best MIG welding operator knows how to stay safe.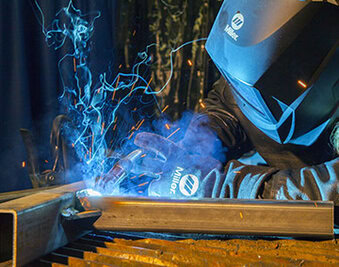 Welding helmets, gloves, close-toed shoes and clothes that fully cover exposed skin are essential. Make sure you wear flame-resistant natural fibers such as denim and leather, and avoid synthetic materials that will melt when struck by spatter, potentially causing burns. Also, avoid wearing pants with cuffs or shirts with pockets, as these can catch sparks and lead to injuries.
Keep in mind that heavy-duty MIG welding often produces a lot of heat, sparks and spatter, and requires a lower degree of dexterity than some other forms of welding. Therefore, using thick, stiff leather gloves that provide a higher level of protection is smart. Similarly, choose leather footwear that covers your entire foot and leaves as little room as possible for spatter to fall along your ankle line. High-top leather shoes and work boots often provide the best protection.
Finally, always be sure you have adequate ventilation per OSHA recommendations and check material safety data sheets (MSDS) for each metal being welded and filler metal being used. Use a respirator whenever required by the MSDS.
2. Do your research before you set up your equipment.
Before you get started with MIG welding, conduct online research to see what the best practices are for the specific wire you have or contact a trusted filler metal manufacturer to improve the quality of your welding. Doing so not only tells you what the manufacturer's recommended parameters are for your diameter wire, but also what the proper wire feed speed, amperage and voltage is, along with the most compatible shielding gas. The manufacturer will even tell you what electrode extension or contact-to-work distance (CTWD) is best suited for the particular wire.
Keep in mind that if you get too long of a stickout, your weld will be cold, which will drop your amperage and with it the joint penetration. As a general rule of thumb, since less wire stickout typically results in a more stable arc and better low-voltage penetration, the best wire stickout length is generally the shortest one allowable for the application.
3. Make sure all of your connections are sound before getting started.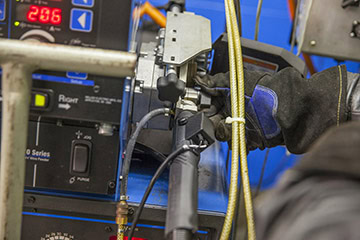 Before you start welding, make sure all of your connections are tight — from the front of the MIG gun to the power pin attaching it to the power source. Also be certain there is no spatter buildup on your welding consumables and that you have a ground cable as close to the workspace as possible. 
Whenever possible, hook the ground cable on the weldment. If that is not possible, hook it to a bench. But remember: The closer it is to the arc, the better. If you have a questionable ground, it can cause the gun to overheat, impacting contact tip life and weld quality.
In addition, regularly clean any shavings from the welding wire or debris that collects on your consumable parts and in your liner using clean compressed air.
4. Select the proper drive roll and tension setting to effectively feed wire.
Improper drive roll selection and tension setting can lead to poor wire feeding. Consider the size and type of wire being used and match it to the correct drive roll to improve MIG welding performance.
Since flux-cored wire is softer, due to the flux inside and the tubular design, it requires a knurled drive roll that has teeth to grab the wire and to help push it through. However, knurled drive rolls should not be used with solid wire because the teeth will cause shavings to break off the wire, leading to clogs in the liner that create resistance as the wire feeds. In this case, use V-grove or U-groove drive rolls instead.
Set the proper drive roll tension by releasing the drive rolls. Then increase the tension while feeding the wire into your gloved hand until the tension is one half-turn past wire slippage.
Always keep the gun as straight as possible to avoid kinking in the cable that could lead to poor wire feeding.
5. Use the correct contact tip recess for the application.
Contact tips can have a significant impact on improving MIG welding performance since this consumable is responsible for transferring the welding current to the wire as it passes through the bore, creating the arc.
The position of the contact tip within the nozzle, referred to as the contact tip recess, is just as important. The correct contact recess position can reduce excessive spatter, porosity, insufficient penetration, and burn-through or warping on thinner materials.
While the ideal contact tip recess position varies according to the application, a general rule of thumb is that as the current increases, the recess should also increase. See Figure 1.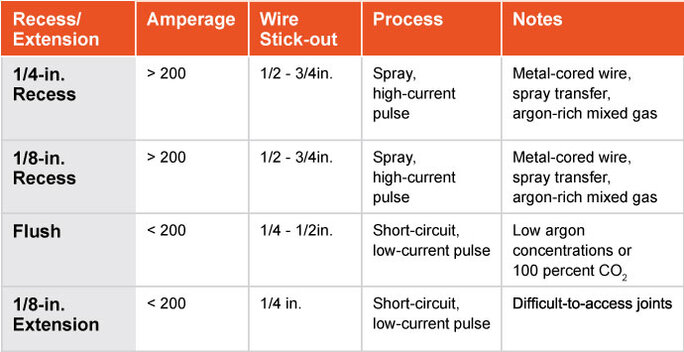 6. Use the shielding gas best suited to your wire.
Always know what gas your wire requires — whether it's 100 percent CO2 or argon, or a mix of the two. While CO2 is considerably cheaper than argon and good for penetrating welds on steel, it also tends to run cooler, making it usable for thinner materials. Use a 75 percent argon/25 percent CO2 gas mix for even greater penetration and a cleaner weld, since it generates less spatter than straight CO2.
Here are some suggestions for shielding gases for common types of wire:
Solid Carbon Steel Wire: Solid carbon steel wire must be used with CO2 shielding gas or a 75 percent CO2/25 percent argon mix, which is best used indoors with no wind for auto body, manufacturing and fabrication applications.
Aluminum Wire: Argon shielding gas must be used with aluminum wire, which is ideal for stronger welds and easier feeding.
Stainless Steel Wire: Stainless steel wire works well with a tri-mix of helium, argon and CO2.
7. Keep the wire directed at the leading edge of the weld pool.
For the best control of your weld bead, keep the wire directed at the leading edge of the weld pool. When welding out of position (vertical, horizontal or overhead welding), keep the weld pool small for best weld bead control, and use the smallest wire diameter size you can.
A bead that is too tall and skinny indicates a lack of heat into the weld joint or too fast of travel speed. Conversely, if the bead is flat and wide, the weld parameters are too hot or you are welding too slowly. Ideally, the weld should have a slight crown that just touches the metal around it.
Keep in mind that a push technique preheats the metal, which means this is best used with thinner metals like aluminum. On the other hand, if you pull solid wire, it flattens the weld out and puts a lot of heat into the metal.
Finally, always store and handle your filler metals properly. Keep product in a dry, clean place — moisture can damage wire and lead to costly weld defects, such as hydrogen-induced cracking. Also, always use gloves when handling wires to prevent moisture or dirt from your hands settling on the surface. When not in use, protect spools of wire by covering them on the wire feeder, or better yet, remove the spool and place it in a clean plastic bag, closing it securely.
As with any welding process, it takes time and practice to gain the best performance when MIG welding. Following some of these simple steps can help along the way.